LIMITLESS POSSIBILITIES
---
RK Trading is proud to introduce an exciting, next-generation 20-axis upgrade to our popular CSX series of Herdon formers. With eight servo driven slides, full wire rotation capability, rotary quill and the ability to add multiple single- or dual-axis servo spinners — the possibilities are practically limitless!
CSX
Series

Spring & Wire Formers
The next generation of spring and wire forming is here. The all-servo tooling slides significantly reduce set-up times and with wire rotation capability, the impossible suddenly becomes possible! With this twenty-axis upgrade, the CSX can easily accommodate multiple single- or dual-axis servo spinners.
Since its introduction, the Herdon CSX Series All-Servo CNC Spring Forming machine has become the flagship and most popular product in our machinery inventory. Take your production capabilities to a new level with RK and the Herdon CSX Series All-Servo machine!



HOW FORMERS DO MORE IN LESS TIME
This new, high-speed 20-Axis All-Servo Wire Former easily supports multiple servo spinners, the 4-axis AT system and the EA attachment. With a next-generation processor and larger touch-screen monitor, this enhanced operating system provides increased versatility and faster production speeds so you can make more parts complete in less time.

Features
Multiple-axis (up to 20 axis) PC-based CNC controller with color display.
Innovative no-cam design simplifies setup effort and adds versatility to machine capability.
Specially designed operator interface provides intuitive way of generating part programs.
Graphical representation of actual axes and table entry removes the need to know the CNC programming.
TEACH function provides an easy, fast way to generate computer program.
TEST mode allows control of program execution by hand.
Auto detection of abnormal/error conditions, e.g. wire feed failure, servo motor alarms, battery low, . . . etc.
Tool management keeps track of setup information on one spring.
Product management provides manager information of each production job.
CSX 20
Wire Ranges: .016" - .080"
Depth: 48.4"
Width: 55.1"
Height: 72.8"
Weight: 3,086 lbs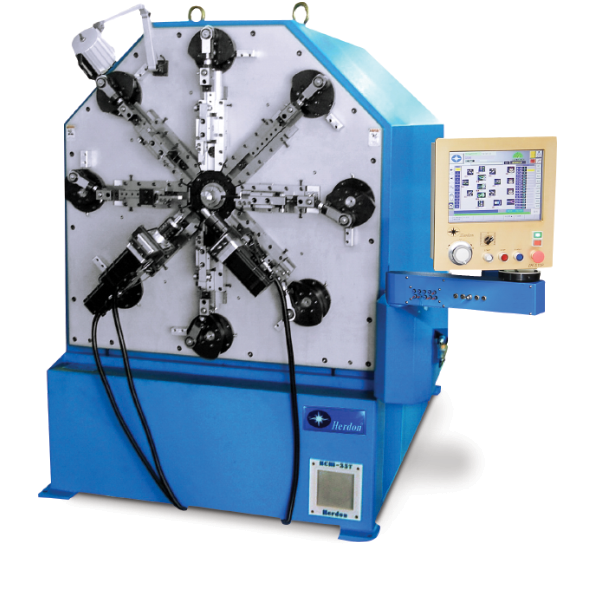 CSX 35
Wire Ranges: .039" - .138"
Depth: 70.9"
Width: 70.9"
Height: 74.8"
Weight: 8,818 lbs
CSX 50
Wire Ranges: .080" - .197"
Depth: 98.4"
Width: 70.9"
Height: 74.8"
Weight: 13, 228 lbs
CSX 50HD
Wire Ranges: .080" - .236"
Depth: 98.4"
Width: 70.9"
Height: 74.8"
Weight: 13, 889 lbs
CSX-AT SERIES FORMERS

WITH AT ATTACHMENT
The newest, most efficient model in the popular CSX series wire formers.
This 20-axis machine features an AT attachment in addition to standard CSX series features.
Features
3D rotating tooling attachment in front of the wire line
Removable optional attachments
Portable bolt on forming station
AT attachment allows wider range of finished wire forms and double torsion springs made start-to-finish on one machine
No need to move part off machine for secondary operations for completion
Widen your scope of jobs and increase profit margins
Increased repeatability of complex parts
CSX 20-AT
Wire Ranges: .016" - .080"
Depth: 48.4"
Width: 55.1"
Height: 72.8"
Weight: 3,968 lbs
CSX 35-AT
Wire Ranges: .039" - .138"
Depth: 70.9"
Width: 70.9"
Height: 74.8"
Weight: 9,921 lbs
Standard Accessories
Rotating Quill
Slides
Tool Posts & Holders
Touch Probe
Lamp
Tool Box w/ hand tools

Optional Equipment & Tooling
Servo Spinner
Power Transformer
Auto Reel
Laser Probes