SMALL BUT MIGHTY
---
Fast, rugged construction, easy to use, and economically priced, CSC Series Spring Coilers are engineered to provide years of high volume, high speed production service while maintaining tight dimensional tolerances.
CSC SERIES

COILERS
For production of standard straight, barrel shaped, or conical shaped pitch or closed wound springs, RK recommends the Herdon CSC Series 2 - 3 axis CNC Spring Coilers. Five models are available, covering wire sizes from .15mm (.006") to 8mm (.315").
The CSC Series software is easy to use yet surprising powerful. Most programs can be generated and refined to blueprint specifications in minutes and require only five lines of programming! First time set ups generally can be up and running in less than half the time required to set up conventional mechanical coilers, and repeat set up times are further reduced since the program is automatically saved for future reuse. The standard configuration of the CSC Coilers is two axes of CNC control - Y Axis (wire feeding) and X Axis (camshaft of cut-off, pitch, and diameter mechanism). An optional third axis CNC diameter control is also available to reduce set up times when unusual spring shapes are required.
FAST AND EFFICIENT

Spring makers will also appreciate the improved diameter control slide mechanism of the CSC Series, which eliminates the need to change coiling attachments for coiling direction changeover (due to it's small size, this is not required with CSC-8). The European style two point coiling system also reduces changeover times and generates significant savings in reducing tooling requirements.

Grinding arbors to precise size and shape - required with conventional mechanical coilers (and some CNC coilers) - is eliminated. The option to use either 'universal' horizontal pitch tools or vertical pitch tools also drastically reduces the amount of tooling required in the spring makers inventory. All this means there will be no more need to waste valuable time while the spring maker grinds tooling for sample orders or hot jobs.
Features
Reduced set up times compared to conventional spring coilers (typically over 50%)
Increased production speed and reduced scrap rates compared to conventional coilers
Easy programming system and coiling direction changeover
Optional third axis diameter control
Optional fourth axis torsion control
Reduced tooling requirements
Ability to use standard free length gages and pitch controllers with no software modification required
Slide lubrication system programmable from operator console
Tooling and pay-off packages available
Free training at our facility
CSC 8
Wire Ranges: .008" - .031"
Depth: 35.4"
Width: 34.6"
Height: 59.1"
Weight: 794 lbs
CSC 16
Wire Ranges: .016" - .063"
Depth: 51.2"
Width: 34.6"
Height: 68.9"
Weight: 1,764 lbs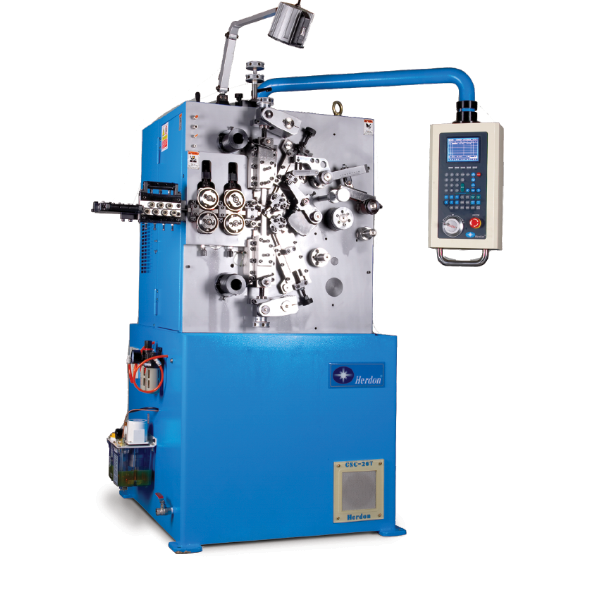 CSC 26
Wire Ranges: .024" - .102"
Depth: 64.1"
Width: 37.4"
Height: 31.5
Weight: 2,204 lbs
CSC 50
Wire Ranges: .080" - .197"
Depth: 68.9"
Width: 59.1"
Height: 78.7"
Weight: 5,511 lbs