RK's Story
RK Trading was founded in 1996 to sell and service machinery designed specifically for the production of springs, formed wire products and spring end grinders to the spring manufacturing industry.
Since our inception, RK Trading has rigorously adhered to the following principles:
Providing our customers with technically advanced, well constructed machines at reasonable prices
Treating our customers in a highly ethical manner, honestly and with integrity
Providing exemplary after-sales service both in parts, service and technical support
RK Trading is located in the greater Chicagoland area and is the exclusive North American distributor for Herdon machines.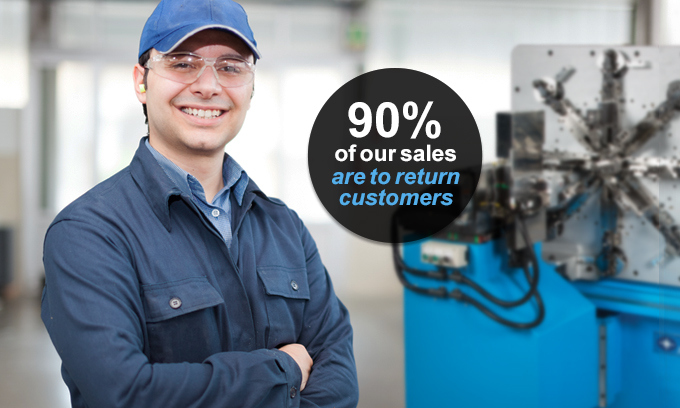 Trusted Excellence
The simple fact that over 90% of our sales are to existing customers illustrates the fact that we provide our customers with total value: the products, service and parts they need, at prices they can afford. We work with our customers to help them maximize machine performance in order to achieve maximum profitability not just at the time of sales, but on a continuing basis. Whether you are simply upgrading to modern technology or are taking on a challenging new project, we can supply your needs, including special machinery for unique applications.
Herdon's Story
Herdon has over 35 years of experience making quality machines for the spring and wire forming industry. From their humble beginnings making spring end grinders in a rented 500 sq. ft. factory, they have grown to occupy a 250,000 sq. ft. company-owned facility in suburban Taipei, Taiwan. Unlike many Taiwanese manufacturers, they make most of their key components inhouse using state-of the art CNC machinery to insure the highest possible quality.
Their product line has grown from simple spring grinders to encompass a full range of: computerized spring coilers (from .8mm up to 20mm capacity), computerized spring formers (from 1mm to 8mm capacity), and spring end grinders (from 15" diameter up to 36" diameter grinding wheels, both crush and downfeed). Within these product lines are a variety of configurations ranging from 6-axis, cam driven to 16-axis full servo formers and 2- to 6-axis coilers. All Herdon machines feature flexible, dynamic, user-friendly programming. Herdon currently manufactures over 500 machines per year with worldwide sales and has the ability to design and produce machines for special or unique applications. RK Trading is the exclusive North American distributor for Herdon machines.